Getting the correct size for a belt can be tricky. Many factors come into play when choosing a proper fitting belt size. From personal preference to belt tightness to what kind of gear, holster, firearm and if you carry IWB or OWB all these factors can make a difference in what size belt.
You can do our Quick fit method which works 95% of the time or for a more accurate fit practically 100% of the time you can measure a current belt that fits you well the way you will be using it. Just follow the instructions below and you will have a perfect fitting Hanks Belt in no time! 
---
QUICK FIT:
BUY 2 SIZES LARGER THAN PANT SIZE:
EX: 36 PANTS...BUY 40 BELT
FOR SUPER EASY SIZE SELECTION SIMPLY PURCHASE TWO SIZES LARGER THAN THE MOST COMMON PANT SIZE YOU WEAR. THIS RESULTS IN A GREAT FIT OVER 95% OF THE TIME.
---
100% PERFECT FIT:
MEASURE A BELT YOU ARE CURRENTLY WEARING
This is super easy to do, only takes a few minutes, and virtually guarantees a perfect fit. Just follow the below instructions and make sure the belt you measure fits you well the way you will be using it with any gear attached.
Lay out your belt on a smooth flat surface. It is probably slightly curved but don't worry about that just measure through the curve.
Take your tape measure and measure from where the buckle meets the leather (do not include buckle length in measurement) to the hole you are currently wearing your belt in and make a note of how many inches to the hole:

---
Scroll down on the page and click on the tab that says "Sizing Instructions"
---
Now scroll down to the belt sizing chart and look for the measurement you got above and match it up with the measurement to the 4th hole in the chart.
If you are between measurements, size up one unless you plan on losing weight in which case size down one.
So for example: If you measured 37" to the hole, you are currently using purchase a 38" belt. If you measured 38" then bump up to the 40 belt.
Note that our belts are made by hand and variances in measurements can occur. They are slight though and will not affect the sizing.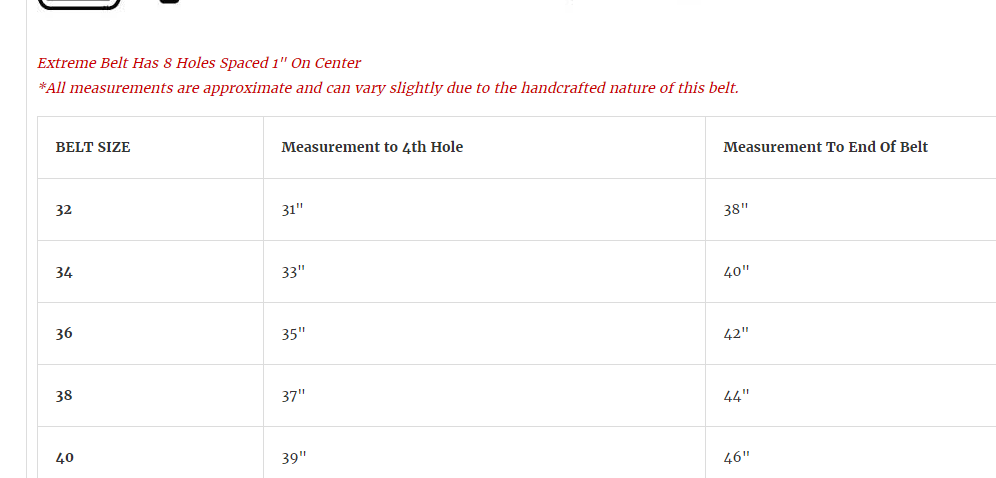 ---
That's it! Select your size, double check it is correct on the add to cart button, and add to cart.
And just to be safe, Hanks Belts offers Free Exchanges if needed, so you never have to worry about additional cost if you do order an incorrect size!